This blog post is inspired by Comics Should Be Good's 31 Days of Comics, which, in turn is inspired by GoodOKBad. I'll update this every other day or so until I complete all 31 Days of Comics.
1: FAVORITE COMIC
Chew
Story: John Layman
Art: Rob Guillory

Hilarious, clever, weird, unique, and witty. If I was a comic book, I would aspire to be Chew. It has everything I could ever want from anything, including an Asian Pacific American lead and a diverse cast of lovable characters, most with eating-based superpowers.
2: COMIC I RECOMMEND TO URRBODY NO MATTER WHAT
Superman: Birthright
Story: Mark Waid
Art: Leinil Francis Yu
This maxiseries made me get Superman for the very first time after decades of not truly appreciating him due to him being overempowered. I dug him ever since. This is an accessible book I recommend to everyone looking for a gateway or a standalone experience. Why not go with the most iconic and ultimate immigrant superhero?
3: GREAT ADAPTATION/REMAKE OF ANOTHER WORK
Transformers: Generation One
Story: Chris Sarracini
Art: Pat Lee
Before the controversial company, Dreamwave, went belly up, they were at the forefront of pushing comic book art technique and production to the next level. They were popular for their adaptation of our favorite 80s cartoon, featuring well-
crafted modern stories and beautiful art.
The Transformers never looked as good before and after this period. I naturally and welcomingly got swept up in the wave.
4: FIRST COMIC SERIES I SURRIOUSLY PURSUED
X-Men
Story: Chris Claremont
Art: Marc Silvestri
X-Men. I'm so not alone. My older cousin started me off and hooked me with Inferno, then I pushed myself simultaneously forward to
X-Tinction Agenda
and backward to
Dark Phoenix Saga
whenever I saved up enough lunch money allowance until I was all caught up. My body starved, but I fed my sense of imagination well.
5: GREAT LOVE STORY
Scott Pilgrim
Story & Art: Bryan Lee O'Malley
Aside from Saga
(which, trust, I will get to), this is admittedly the only other comic book I've read that later became obvious was centered around a romance. Initially, the manga aesthetic, the nods to the 8-bit video games I lived for as a kid, and news of a Hapa creator drew me to the digests. Upon finishing, I didn't mind at all reading a romancey comic book. I'm glad this was the first that popped my cherry. It totally prepared me for the buck wildness of
Saga.
Whether or not you loved the film, the source material here is top-notch entertainment. Trust a fellow child of the 80s.
6: NON–FICTION COMIC I'D RECOMMEND TO PEOPLE WHO DON'T DO NON–FICTION
Action Philosophers!
Story: Fred Van Lente
Art: Ryan Dunlavey
Almost couldn't come through on this one! Thankfully, I remember reading a few stories from this book for a previous The Line It Is Drawn assignment. I enjoyed what I read. Check out what it brought out of me HERE.
7: COMFORT COMIC
Jimmy Olsen One-shot
Story: Nick Spencer
Art: RB Silva
Best one-shot ever! It made me unexpectedly enjoy Jimmy Olsen of all people. That's one of the biggest shockers I've experienced in all my time spent reading comics. If/when you ever have time to curl up in bed and experience the true magic, relevance, and delight of today's sci-fi, this is the comic for you even if you're not big on sci-fi nor superheroes.
8: GORGEOUS COMIC
Batwoman: Elegy
Story: Greg Rucka
Art: JH Williams III
If it's JHW3 art, you MUST own it. 'Nuff said.
9: COMIC THAT TOTALLY BLEW MY MIND
Morning Glories vol. 3: P.E.
Story: Nick Spencer
Art: Joe Eisma
Almost every issue of this series blows my mind, but this particular arc featured the first time I physically reacted to a startling revelation. Of course, the big reveal centered around my favorite character in the book. And, not to mention, my second favorite character stunningly didn't make it out of this story alive. Buckle your head in for this one.
10: MOST BEAUTIFUL SCENE IN ANY COMIC
All Star Batman and Robin, the Boy Wonder
Story: Frank Miller
Art: Jim Lee
Jim Lee's Batcave. Glorious! Not a euphemism, by the way. It's a six-page foldout of pure majesty. Also, Robin kickin' Green Lantern's ass in a room painted yellow was a riot. It felt like a cathartic preemptive strike against the character's feature film flop. I laughed so hard, I had a lasting six-pack afterwards. Beautiful!
11: OLD COMIC I LOVE
Giant-Size X-Men 1
Story: Len Wein
Art: Dave Cockrum
It's the classic gateway into superhero comic books.
12: GREAT HOLIDAY COMIC
Story: Dustin Nguyen & Derek Fridolfs
Art: Dustin Nguyen
Need a hot holiday-themed comic to fulfill your holiday needs? This comic series got you covered for about an entire year's worth of holidays. Fantastic legacy to the Bruce Timm/Paul Dini Batman: The Complete Animated Series.
Fun for all ages! One of my favorite DC offerings ever.
13: GREAT PLOT TWIST
Mind the Gap
Story: Jim McCann
Art: Rodin Esquejo
Every suspenseful issue of this title contains at least one mind-blowing plot twist. Very well-crafted mysteries featuring a Hapa lead and a diverse array of characters who make you question "whodunnit?" and "why?" T
his series truly satisfies with a very personal story, gorgeous art, and most excellent nods to one of my favorite series ever,
Runaways
(more on this later)
.
14: COMIC THAT I LOVE THAT I'LL NEVER READ AGAIN
Shortcomings
Story & Art: Adrian Tomine
This story about a failing relationship affected me a lot. I love it, but reading it made me depressed. Of course, I'll read it again, but I'll really have to be in the mood because I know it'll put me in a dark place by the time I finish.
15: COMIC THAT MAKES ME SMILE
Blue Beetle vol. 3: Reach for the Stars
Story: John Rogers
Art: Rafael Albuquerque
This volume and the next
chronicling Rogers & Albuquerque's run made me feel a whole range of emotions, but each issue always ended with making me smile. The things that came out of Paco's mouth is worth the price of admission alone. He's, by far, one of my most favorite supporting characters in any comic.
16: COMIC THAT MAKES ME CRY
Final Crisis Requiem
Story: Peter Tomasi
Art: Doug Mahnke
Very emotional sendoff to a beloved character, who was needlessly and hastily taken away. This story placed Pete Tomasi on my radar and I followed some of his work since. This comic goes down as my all-time favorite from him.
17: COMIC THAT REMINDS ME OF SOMEONE
American Born Chinese
Story & Art: Gene Luen Yang
This reminds me of all my Asian Pacific American brothers, especially those of us who grew up in the 80s.
18: COMIC THAT DESERVES A SOUNDTRACK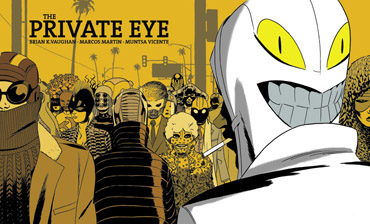 Private Eye
Story: Brian K. Vaughan
Art: Marcos Martin
When I read this phenomenal name-your-price web series, also one of my favorite recent comics, I hear a soundtrack that sounds similar to Cowboy Bebop
, one of the best anime ever.
19: COMIC THAT I QUOTE FROM
Daken: Dark Wolverine
Story: Daniel Way & Marjorie Liu
Art: Giuseppe Camuncoli
The way Daken thinks is so F-ed up, yet it's stuff I admittedly also thought about, but keep to myself, which is scary.
20: COMIC WITH WITTY DIALOGUE
Runaways
Story: Brian K. Vaughan
Art: Adrian Alphona
Kids say the darnedest... or, rather, the smartassest things and it's best reflected in this phenomenal comic. This one set the standard for how contemporary teen superhero books are told and is one of my favorite comics ever. I highly recommend this to any and everyone all the time!
21: COMIC THAT I USED TO LOVE, BUT NOW DISLIKE
X-Force: A Force to be Reckoned With
Story: Fabian Nicieza
Art: Rob Liefeld
I remember it being a very good story in the beginning. Mostly, I was so enchanted by the art as a kid. Now I can't even look at it without questioning my taste. It's a style I definitely outgrew.
22: COMIC THAT MAKES ME WANNA HAVE SLOPPY MAKEOUTS WITH SOMEONE
Saga
Story: Brian K. Vaughan
Art: Fiona Staples
Hella sexy and twisted! The best kinda sexy! Please note: this is my other favorite comic book. Ever. This one's nothing like you've ever experienced. The realest c
ontemporary sci-fi at its peak finest!
Get it. NOW.
23: FIRST COMIC I EVER BOUGHT
Uncanny X-Men 269
Story: Chris Claremont
Art: Jim Lee
It's been a long time, but I think it was this one at the local Vallergas. The cover alone grabbed me. Who was this hottie-boom-bottie with skunk hair getting choked by a decomposing blond bombshell?? I had to know! And the art! Glorious, glorious Jim Lee art! My life was never the same.
24: COMIC THAT MAKES ME LAUGH
Deadpool Classic vol. 9
Story: Gail Simone
Art: Alvin Lee
This is literally the arc that made me laugh reading a comic book for the first time. So many fond, twisted memories of this run, and the following Agent X arc and finale by Gail.
25: COMIC FROM A FAVORITE CREATOR
All-New Atom
Story: Gail Simone
Art: various
It's the book that gave us Head and Jetpack Hitler. *mic drop*
26: GUILTY PLEASURE COMIC
Danger Girl
Story: J. Scott Campbell & Andy Hartnell
Art: J. Scott Campbell
The best comic book series I've ever read featuring some of the best cheesecake art ever. It's a guilty pleasure I'm not at all ashamed for enjoying, even though I know I should be a li'l bit.
27: COMIC I'VE READ THE MOST TIMES
X-Men: Mutant Genesis
Story: Chris Claremont
Art: Jim Lee
Whenever a new superhero team comic book launches, I measure it up against the opening arc of X-Men
. It has everything from drama, cheekiness, action, and all the compelling, diverse, beautifully rendered characters I cared for and followed religiously. The solid writing remains memorable and affecting, but the art always served as the main draw. Jim Lee was my first comic book artist hero. When I saw his art at around age 11, I knew immediately that I wanted to become a professional illustrator one day.
28: GREAT COMIC FOR KIDS
Tiny Titans
Story: Art Baltazar & Franco
Art: Art Baltazar
Sweet and delightful for the kids, Bebe's or not. Also amusing in-jokes for the adult DC fan.
29: COMIC THAT CHANGED THE WAY I SEE THE WORLD
Stormwatch: Team Achilles
Story: Micah Ian Wright
Art: Whilce Portacio | Carlos D'Anda
Brilliant, satirical, and both a product and ahead of its time, this title showed me how a comic book can reach and connect with people in a different and very mature way. Unfortunately, the title was plagued with art changes and ethical issues outside of the story, which made me see the obstacles and politics in comic creation beyond the printed pages. Despite the challenges, the story never dipped in quality and remains one of my favorites even if it wasn't allowed a proper ending.
30: TRULY SMART COMIC
Ex Machina
Story: Brian K. Vaughan
Art: Tony Harris
This series made me question, then strengthen my own beliefs and moral compass. When anything achieves that, be appreciative and cherish it.
31: COMIC THAT I WOULD FEEL BAD LEAVING OFF A LIST OF COMICS
Batman/Superman vol. 1: Cross World (The New 52)
Story: Greg Pak
Art: Jae Lee
Don't miss this kick-off arc that joins two Asian American comic book giants on a project featuring two of the world's finest superheroes in history. Well-written and beautifully rendered, it's not to be missed.
Peace.